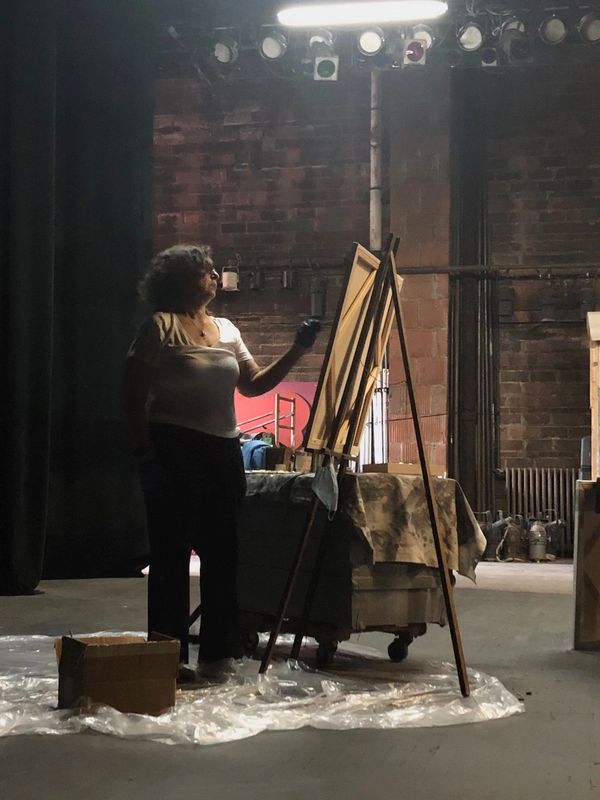 I am in love with making art. My process reflects an informed intuition developed over a lifetime of drawing, painting, printmaking and sculpture. It all stems from my love of drawing. When it flows, it's like breathing. I rely on my hand, eye, and some intuitive sense to open a dialogue with the emerging artwork. As a piece evolves it can be quite a surprise. The challenge is to keep the the work from falling into the abyss. It's an experimental dance with the materials. It's all part of the process.
I was an Art History major in college and that rich background has set the foundation of my artistic life. Throughout the years I have explored the push and pull between representation and non-representation. I started out as a sculptor so my paintings had a natural volumetric orientation. As a painter, I focused for many years on representational subjects from an abstract reference point, letting the materials speak. My love for lyrical abstraction has set me on my recent path. Printmaking has been an important aspect of these aesthetic pursuits. Monoprints, being particularly painterly, suit my temperament and process. I continue to draw quick sketches from life, to keep my hand and eye working together.
There are different aspects of my process that tie my abstract and representational work. I am always searching for the underlying structure in each painting, be it a recognizable image or a collection of lines, shapes and colors dancing across a surface. I also see the connection in my mark-making and in my palette between the earlier and more recent work. For now, I am interested in setting the lines and colors free, to bring them to the surface to form a different cohesive whole. The ultimate goal is to share something ineffable and hard to define with the viewer, conveyed in a visual language. Art is the ultimate subject, with its power to speak to us on its own terms.
I primarily paint with oils and acrylics with serious forays into printmaking. I began my career as a sculptor. Volume and form shape my work. I have recently returned to clay through ceramics.
BA Art History, Brandeis; MFA Sculpture, Parsons School of Design/NY Studio School. I studied painting with John Adams Griefen. Attended Triangle Artists' Workshop, Vermont Studio School, Emma Lake, Leighton Foundation, and Chateau Orquevaux. Also studied with Ronnie Landfield. Currently, studying with Jill Nathanson and Bruce Dorfman at the Art Students League. Regularly exhibit in solo and group shows.
Born: 1961 in Brooklyn, NY.
Currently lives in Flemington, NJ
2016-2023 Raritan Valley Community College, Printmaking
2019 Chateau Orquevaux Artist Residency, France. Recipient of the Denis Diderot Grant
2018 Takaezu Studio- Clay Workshop
2016 Raritan Valley Community College, Ceramics
2012-15 Hunterdon Art Museum, Printmaking
1984-2001 Painting workshop with John Adams Griefen
1993, 1989 The Leighton Foundation Center, Calgary CA. Five selected artists
1994 Emma Lake Workshop, Saskatchewan, CA.  Intensive two-week residential artists' program for selected artists
1990 Vermont Studio School, Johnson City, VT
1986 Triangle Artists' Workshop, Pine Plains, NY
1985 NYSS/Parsons School of Design/New School University, NYC. MFA, Sculpture. Studied with Ronald Bladen, Michael Gitlin and George Trakas
1983 New York Studio School, NYC. Studied with Sidney Geist, Peter Agostini, Jonathan Silver
1983 Brandeis University, Waltham, MA. BA, Art History    
SELECTED SOLO EXHIBITIONS
2020 Gallery at the Park, Union City, NJ
2017 Theater for the New City, NYC
2015 Theater for the New City, NYC
2014 SOMI Fine Art Gallery, Breathing with Paint, Flemington, NJ
2009 Waltuch Gallery at the Kaplen JCC on the Palisades, Tenafly, NJ
2008 River's Edge Gallery, Bridgeton House, Upper Black Eddy, PA
2005 GJ Cloninger & Co, Morris Plains, NJ
2003 Musconetcong Gallery at Alba Vineyards, Finesville, NJ
2002 J Catania Gallery, Frenchtown, NJ
The Reader's Digest Association, Inc., Pleasantville, NY
Golden Artists' Colors, Berlin, NY
Chateau Orquevaux Permanent Collection, France
Park Theatre Performing Arts Center Permanent Collection, Union City, NJ
David Duffin, Sharecom, Calgary, CA
Hunterdon Regional Cancer Center, Hunterdon, NJ
Flemington Jewish Community Center, Flemington, NJ
Projectavision, Inc, NY, NY
Switzer Group, NY, NY
Hunterdon Academy of the Arts, Flemington, NJ
Matt's Red Rooster Grill, Flemington, NJ
Flemington Cafe, Flemington, NJ
Bnai Zion Medical Center, Haifa, Israel
The Leighton Foundation, Calgary, CA
Triangle Artists' Collection, NY, NY
Alba Vineyard, Milford, NJ
SELECTED GROUP EXHIBITIONS
2023 Salon 81, 81 Leonard Gallery, NYC
2023 RVCC Student Show, Branchburg, NJ
2022 RVCC Juried Printmaking Exhibition
2022 New York Studio School Virtual Alumni Exhibition
2022 RVCC Student Show
2021 Biafarin Online- Gallerium: Children
2021 The Painting Center Art File Gallery
2021 FlatFile 8x8 Season 2
2021 AHA Fine Art Gallery, Viva la Memento Mori
2021 Mills Pond Gallery, Visualizing the Past
2020 RVCC Independent Study Show, Branchburg, NJ     
2019 M Galleries at Pohatcong Native Arboretum
2019 LBIF, Long Beach Island Foundation
2019 Brick and Mortar Gallery, A Collection of Lines
2019 THAT, The Hunterdon Art Tour, Group Show Hunterdon Art Museum
2019 Bethany Arts Community, Fragile Threads: In Search of Authenticity & Liberation, Ossining, NY
2018 RVCC Group Show, Branchburg, NJ
2017 RVCC Group Show, Branchburg, NJ
2017 Hunterdon Art Museum, Clinton, NJ
2016-17 Sideshow Gallery, Through the Rabbit Hole, Brooklyn, NY
2017 Baruch College, NYC
2014 SOMI Fine Art Gallery, Group Exhibition
2007-2017 Naked in New Hope, Sidetracks Gallery, New Hope, PA
2008 Two Points of View, Hunterdon Academy of the Arts Gallery, Flemington, NJ
2006 Riverbank Arts, Stockton, NJ
2006 Harrison Street Gallery, Frenchtown, NJ
Triangle Artists Workshop, Forty Years of Triangle, 2023
Piri Halasz, PhD, From the Mayor's Doorstep, (24 Apr 2018) Abstract Representational
Piri Halasz, PhD, From the Mayor's Doorstep, (5 Jun 2017) MOMA, TNC & Matisse Going Viral in Montclair
Piri Halasz, PhD, From the Mayor's Doorstep, (6 Oct 2015): Only One Big Toe
Piri Halasz, PhD, From the Mayor's Doorstep, No.84 (1 June 2009) Supplement to the Deluxe Print Edition:
Cara London, Oranges in a Bag
Hillary Thomas, Hunterdon Review: Readington Township Woman has a Passion for Painting
Piri Halasz, PhD, "From the Mayor's Doorstep,"(October 2007) Images of the Nude in Pennsylvania, p.68-69.
Cathie Viksjo, Hunterdon County Town & Country Living, Fall 2006, Vol. 4, Number 3: Gallery: Cara London
Bernie Abrams, Today in Hunterdon, July 27, 2006, p. 1: Artist Watches, then Uses Transitions
S.M. Standring, Hunterdon Democrat, Jan 13, 2000: Blind Sculptor Possesses Unique Vision
Eleanor Barrett, Sunday Star Ledger, October 1, 1995, p 47: Artist Ferrets Out Data to Create a Memory
Emanuel Haller, Strictly Hunterdon, Jan. 22 1993: Art Hobby Finally Became Career for ex-Broker
Emanuel Haller, Courier News, Jan 10, 1993: Artist finds herself bursting with creativity
Tammy Paolino, Hunterdon Democrat, Dec 31, 1992: Artist Takes Stock, Opts for Painting